SonomaCONNECTION.com
Kathleen Palmer's Biography
Accomplishments:
Kathleen implemented the first audio/voice response systems in California in 1983 working with pioneers in the technology, and making it user friendly for her customers. She was among the first to implement corporate networks for PC and Macintosh computers, including email systems for internal and Internet distribution. She installed some of the first voicemail systems developed for business use.
She served as president of the cc:Mail Administrator's Group for 7 years, formed the first systems users groups for Credit Unions to help staff develop skills and to provide group leverage with corporate vendors. Continuing her work with communications, she worked for Autodesk as Messaging (email) Manager for over 6 years, responsible for global email systems and the evolution of the Messaging systems as network and telecommunications systems matured in the corporate world.
While working for Sierra Club in San Francisco, Kathleen implemented the first local area network (LAN) in the Club Headquarters, and then converted the nation-wide volunteer email network, saving $100K per year in expenses. Working at two of the largest Credit Unions, S.A.F.E. and Patelco, Kathleen had the opportunity to work with and understand all financial systems within the Credit Union: member transactions, ACH, check processing, ATM network & support, accounting, financial reporting & loan processing, and periodic reporting to members, such as monthly statements and annual 1099 reporting.
As a volunteer for Data Processing Management Association (DPMA), and with the Electronic Messaging Association (EMA) she worked to craft the vision of expanding communications into the global marketplace.
Skills:
In addition to systems development and operations, Kathleen is skilled in business practices that ensure her customers can make informed decisions and achieve project success. Her areas of expertise include: system specification and cost analysis, project planning and implementation, staff training and support, policy and procedure development, and operational management and auditing.
Kathleen's specialty areas include Web Site Design and Marketing, Internet Services, Enterprise Messaging Systems, Groupware and Workflow Process Design, Corporate Directory Design, PC and Macintosh applications and networks, and Voice and Data Networks.
Kathleen has led corporate training and instructions for groups of 10 to 400, as well as training for individuals. She is expert at smoothing the way for "techno phobics" (those with a fear of technology) to master their computers and enjoy the learning experience and new freedom it brings.
Experience:
Technology Consultant/Owner, Sonoma CONNECTION, Healdsburg, CA; March 1999 to present
Clients: various small businesses and individuals.
Web Site Design and Internet Marketing, Dreamweaver, HTML, JavaScript, PHP, Flash, CMS (Netopia, WordPress, Joomla, Drupal), E-Commerce solutions, MySQL, ColdFusion, FBML, Digital Photography & PhotoShop Editing, Copywriting, Internet Services, PC and Macintosh computer systems, Wireless Web Services, Voicemail, Long Distance and Attendant services.
Messaging Services Manager, Autodesk, Inc. San Rafael, CA; August 1995 to September 1999
Software Development: $1 billion in assets; worldwide customer base; 86 offices, 3500 users
Managed messaging systems (processing 100K+ messages per month); FY99 budget of $1.2 million. Specified and implemented: enterprise messaging system (Microsoft NT 4, Exchange 5.5 and Outlook98), deployment to 2800 users in 55 sites (60% of users using remote access); developed user training. Evaluated enterprise messaging and groupware systems (Exchange, Notes and Netscape Suitespot), implemented pilot systems supporting 500 users on each system concurrently. Managed a team of 2 messaging specialists, 1 messaging architect and 2 administration consultants with daily responsibility for email systems availability (Exchange, Unix, and cc:Mail), maintenance and system upgrades, connectivity to the Internet for correspondent email and faxes, corporate directory and customer support. Coordinated group efforts with corporate IT and customers using a change control process. Implemented corporate conference room scheduling and public folder access for US and Asia Pacific sites, and the messaging systems integration for 3 major and several small acquisitions. Developed and implemented the corporate Disaster Recovery plan for critical messaging systems. Developed the Messaging Services website for internal users, and directed the development of the web site for the corporate deployment of Outlook98.
Network Engineer, Autodesk, Inc. San Rafael, CA; March 1993 to August 1995
Administration of the Novell network and cc:Mail systems for 2800 users. Founding member of the cc:Mail Administrators Group, active 1993-1998. Coordinated the IT infrastructure effort for the 1994 corporate headquarters move. Reworked multiple corporate directories into a master corporate directory, including 2000 distribution lists. Upgraded the cc:Mail system from SPX to TCP/IP routing. Implemented Remote Access to email systems. Developed and maintained email policies and guidelines, and procedures for messaging staff and administrative support staff. Implemented cc:Mail post offices remotely for the China and Brazil offices.
Technology Consultant/Co-Owner, Organizational Dimensions; SF/Healdsburg, CA; 1989 to 1994
Clients: Autodesk, Sierra Club, various small businesses. Designed and managed conversions of network and email systems for Autodesk and Sierra Club. Upgraded membership database to improve data maintenance and management reporting for educational institution. Trained clients in use of computer applications.
PC/Communications Manager, Sierra Club; San Francisco, CA; December, 1989 to 1992
Environmental organization: $15 million in assets; 640,000 members; 70 field offices; 500 users
Specification and installation of: international electronic mail system--500 users; Novell LAN --50 users; AppleTalk LAN--40 users; voice mail systems with automated attendant--30 - 200 users; Centrex system--30 users. Telecommunication service improvements saved $80,000 in annual costs and reduced administrative overhead. Corporate standardization of PC and Mac applications to facilitate data exchange and improve staff training. Staff representative to the Board of Directors' Information Systems Task Force. Supervised the Data Systems Department in the absence of the Director.
Data Processing Manager, Patelco Credit Union; San Francisco, CA; December, 1983 to October, 1989
Financial institution: $360 million in assets; 77,000 members; 10 branch offices, 150 users
Managed an Information Center which processed over 1 million transactions per month and had an annual operating budget of $700,000. Specified and implemented: two HP3000 processor upgrades; numerous operating system upgrades; electronic funds transfer with the Federal Reserve; internal VISA processing; interactive Audio Response System; nationwide Automated Teller Machine network with Point of Sale nodes; Voicemail system with Automated Attendant - 130 users; Centrex system - 130 users; Automated Call Distribution system - 20 agents; Wide Area Network electronic mail system. Managed two corporate headquarters moves, from data center design through operational switch over. Supervised three merger conversions. Developed and implemented a contingency plan which ensured system reliability to guarantee 24 hour services. Served as staff liaison to the Board of Directors Data Processing Committee for long range strategic planning. Developed 5-year Technology Plan.
Project Leader, S.A.F.E. Federal Credit Union; Sacramento, CA; January to December, 1983
Computer Operator; January to December, 1982
Financial institution: $136 million in assets; 42,000 members; 3 branch offices, 100 users
As project leader, beta-tested systems for: integrated Audio Response; Automated Teller networks; Integrated General Ledger; loan processing and forms generation; VISA payments processing, Automated Clearing House transactions. Programmed new PBX serving 80 users. Trained staff on computer and communications systems and designed new user applications. Developed and coded a Safe Deposit Box billing system utilizing a PC link to the HP3000. Diagnosed and serviced problems with ATMs and computer equipment.
Education:
AA degree with honors: Data Processing and Business: American River College, Sacramento, CA
University of California, Davis, CA: Undergraduate studies majoring in Psychology
Continuing Education and Self-Study: Information Technology and eCommerce; Organizational Behavior and Development; Conflict Mediation; Environmental and Personal Health
Interests:
Organic Gardening, with projects including creating a wild bird sanctuary garden to protect the local endangered California quail, a butterfly garden, and providing habitat with native plants and fresh water for wildlife. Also, healthy locally-grown food for people - nurturing our connection to the Earth.
Time in Nature, hikes, camping, travel to natural & sacred places. Spirituality that encompasses nature and wildlife bound with people as stewards of our environment.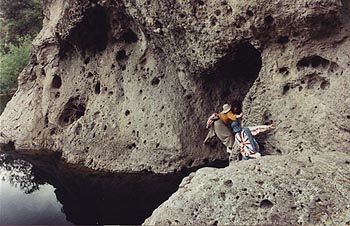 One of Kathleen's more challenging hikes
Phone: (707) 433-8774